Fujitsu Scanner Fi-6400
For the paper-intensive back-office, the Fujitsu fi-6400 scanner digitizes tens of thousands of documents a day. With proven feed mechanics and high-quality image cleanup, the fi-6400 sustains a spectacular throughput, providing businesses with an exceptional ROI. As promised, Fujitsu has delivered a trusted production scanner in a quiet and compact space.
The ideal blend of features and performance to maximize scanning productivity
Fast, 100 ppm (simplex) / 200 ipm (duplex) scanning in monochrome or color (A4 (letter), landscape @ 300 dpi)
Residue-resistant rollers, removable glass, and wide opening reduce maintenance costs
Easy-to-use PaperStream Capture software for batch scanning, including 2D barcode support
Space-saving design with quiet operation and many environmentally friendly qualities
Triple Ultrasonic Double Feed Detection with Intelligent Multi-Feed Function
500-page automatic document feeder with adjustable height hopper
Scanner Central Admin Suite for volume and asset tracking
Eco-friendly white LED array
Maintain optimal up-time and peak performance with Fujitsu service and support
Advanced Features to Maximize Your Productivity
Large volume hopper and high speed scanning
To boost the efficiency of large volume scanning at centralized operations, up to 500 sheets can be loaded in the hopper at a time. Together with an impressive scanning speed of 100 ppm (color, A4 size, simplex, 200/300 dpi, landscape), maximum productivity can be achieved.
Advanced feeding mechanism
The fi-6400 is capable of digitizing a variety of document types used in many scenarios from ultra-thin receipts to thick documents (20-209 g/m²). In addition, this scanner is equipped with a reliable "paper protection functions" to minimize the risk of documents being damaged even during high speed scanning.
Remarkable small design
Having a front loading feeding mechanism and low height compact design, the fi-6400 allows operators to perform scanning tasks while sitting at their desk. The scanner is designed to minimize the device's height to allow users to load and remove scanned documents with ease. This greatly reduces the stress on operators who scan for extended periods of time.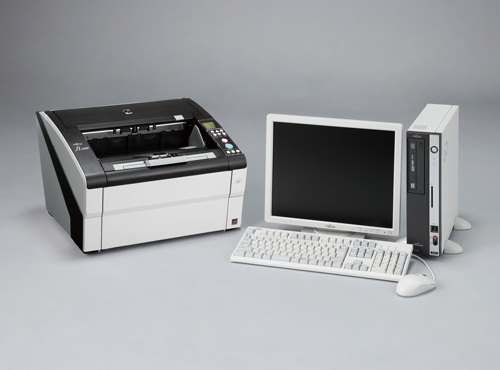 Leading Hardware Technology Paired with Expert Software
The Fujitsu fi-6400 scanner empowers scanner operators to provide efficient centralized batch scanning. The included suite of PaperStream IP, PaperStream Capture and Scanner Central Admin provides users with a powerful, efficient and easy-to-use image enhancement solution to get organizations up and scanning quickly and easily.
PaperStream IP – Automatically creates high quality images without manual adjustments
The scanner driver PaperStream IP, which provides TWAIN/ISIS support, automatically converts documents into exceptionally clean images, improves OCR even when scanning wrinkled/soiled documents or documents with backgrounds and eliminates the hassle of fine tuning scanner settings.
PaperStream Capture – Batch scanning, validate and confirm the document content
PaperStream Capture is an application for scanning and managing scanned images from Fujitsu's fi Series scanners. Adjusting scanning settings and performing batch scanning, are accomplished easily with PaperStream Capture's user-friendly interface. With the seamless linkage to the PaperStream IP driver, high quality image processing and batch scanning are performed simultaneously. With just a few easy settings, PaperStream Capture automates sorting and saving of scanned documents. The "Automatic Image Quality Checker" automatically highlights folded and damaged documents allowing effortless validation of scanned images.
Scanner Central Admin – Efficiently manage multiple scanners
Using the bundled Scanner Central Admin application, up to 1,000 scanners can be managed from one central location. In addition, the usage status is traced, so periodic replacement of consumables can be performed smoothly.
---